Founded in 1954, Grupo Provivienda has a well-established presence in Panama, Colombia, El Salvador, and Mexico. With a 25% market share in the house building sector in Panama, Provivienda has delivered 130,000 homes since their establishment. The company covers the complete construction package, from site selection, site planning, land purchase, construction and development of projects, to project sales and customer service for all types of house building projects. LetsBuild's Geniebelt product is used as their real-time collaboration and communication tool in their volume house building projects.
Manual processes hurt productivity in an old-school industry
The biggest challenge for Provivienda is the low entry barriers in the industry they operate in. Simply put, it is fairly easy for competitors to copy what successful companies are doing. In order to battle that, they focus on maintaining good relationships with their customers, perfecting their sales process and improving the construction processes on site.
The reduction of time and cost on their projects is also of paramount importance given the increasing land and manpower costs. This was a situation that would often keep the Provivienda management team up at night.
"If we analyse construction sites and the actual construction process, it's still a very old-school industry where you have all the players coming in from different places with different backgrounds and experience trying to put it all together without any help from technology," says Raul A. Hernandez Sosa, VP Business Development, at Grupo Provivienda.
Without technology, work has to be carried out using manual processes, which leads to low efficiency and productivity rates. As the industry predominantly employs low skilled labour, Provivienda's on-site teams used to report and perform tasks manually using pen and paper.
"LetsBuild's real-time schedule and on-site planning product GenieΒelt brings us the ability to have control of what's happening at the site in real time. Not only that, we have a complete vision of the construction site and multiple teams collaborating to get work done. That means, the suppliers, main office, procurement, on-site workers, and subcontractors are all connected and managers are aware of everything," says Raul Hernandez.
This has enabled managers to solve problems quickly and make changes and adjustments to the schedule in real time from anywhere.
We believe we can save 10-15 percent in production cost. There are many benefits in not having to have inventory on hand and not having those downtimes that we currently face.
Lack of data in construction
Before they found LetsBuild, Provivienda had faced issues with lack of data in construction. There was no process behind data collection and analysis in order to bring stability to construction projects.
"There is next to no data in construction. As a volume housebuilder, we repeat the process over a thousand times a year and we don't have any data from it. So we can't overcome issues that happen on site and avoid them in the future." says Raul Hernandez.
With GenieΒelt, Provivienda is able to see how different teams are collaborating on site. By reporting progress on tasks assigned, pictorial evidence of problems or tasks performed, managers are making data driven decisions regarding their projects.
"We can now start predicting what's going to happen in the future and make adjustments to the programme if needed. So GenieBelt has helped us to be on site without actually being there. It is also helping us control the people on site so that they do what they are supposed to be doing," says Raul Hernandez.
Subcontractors arriving on site in vain
Having subcontractors arrive at the right time is very important to Provivienda as they develop multiple projects at a time. But without a live schedule, it gets difficult to coordinate with multiple teams.
"If your programme is not updated frequently, problems on site escalate because they have not been communicated to the right person. In most cases, people on site are not the right kind of people to resolve the problem. By the time the issue is communicated to the right person, it is too late and we are dealing with delays and downtime," says Federico Salazar, CEO at Grupo Provivienda.
Federico was frustrated with the amount of downtime on their projects. Resolving issues on site was simply taking too long resulting in increased cost and missed deadlines. More specifically, the high inventory expenses and the downtime on sites meant that Provivienda's costs were approximately 15% higher than they should be. Under these circumstances, Federico was worried that the company would have to close down operations.
Another issue Provivienda faced before the implementation of LetsBuild's product was labour scalability.
Subcontractors would often show up on site without knowing the number of people needed to get the job done.
"So now with GenieBelt we are able to visualise everything and see exactly the state of the project at every moment. The relevant person is alerted about the problem and has a deadline to get the job done. We are also able to communicate and collaborate with multiple subcontractors, instantly," says Federico Salazar.
Need for a construction-specific tool
Provivienda used MS Project for planning but updates from site were infrequent and problems could not be escalated quickly.
Even though it should take 113 days to build a house according to the programme Provivienda made in MS Project, it took an average of 310 days. Also, the company had to keep $2 Mio. worth of materials inventory to be sure they had all sites covered.
MS Project does not offer communication in real time and with remote sites, that means no one knows what is going on. Excel and PDF reports are complex and not up-to-date leaving Federico and his team with very little insight into their business.
Provivienda did look into developing their own app to fix this, but they soon realised the cost and time wouldn't be worth it. Building houses, not apps, is their specialty.
The company was also very focused on finding ways to be more efficient, reduce the duration of their projects and, by extension, develop a strong competitive advantage in the market.
Federico realised that the tools they were using were inadequate for their needs. MS Project is good for planning but it is static and too difficult for the field staff to use for updates. At the same time, WhatsApp and other similar communication tools are not made for construction, and information communicated from the site can't be linked to the plan. They needed to find a tool that allowed them to monitor progress and problems in real time.
When Ana Maria Vargas, Provivienda's Director of Business Intelligence, and Aimeth Sanjur, Head of Lean Planning, went looking for a solution, they found LetsBuild online and they suddenly realised that there was a tool that would allow them to communicate in real time around the project schedule.
Ana and Aimeth presented the findings both to Federico and Raul, Provivienda's VP of Business Development, and a couple of months later they decided to do a trial with LetsBuild on one development project with 500 houses.
Federico's team were worried if the staff would use the new tool properly as all the site inspectors who use the app work remotely, away from the office.
GenieBelt reduces cost and time overruns
With the implementation of the GenieBelt product, Provivienda has seen immediate results.
"We believe we can save 10-15 percent on production cost. There are many benefits in not having to have inventory on hand and not having those downtimes that we currently face," says Raul Hernandez.
On a similar topic, Federico Salazar discusses the time benefits LetsBuild brings them.
"Before LetsBuild's product GenieBelt, it was taking us 310 days to construct a house. It was due to the downtime between activities. Now the same house is built in 60 days. The thing that changed it was a live programme that helped us avoid downtime between activities."
As for Provivienda's inventory? They were able to significantly reduce its cost ($2 mio.) and minimise waste. Materials are now planned better because the construction life cycle is significantly shorter and the project team has a solid understanding of their current and future needs. They are able to plan ahead with precision without having to over-order materials or store them in their inventory for an excessively long time.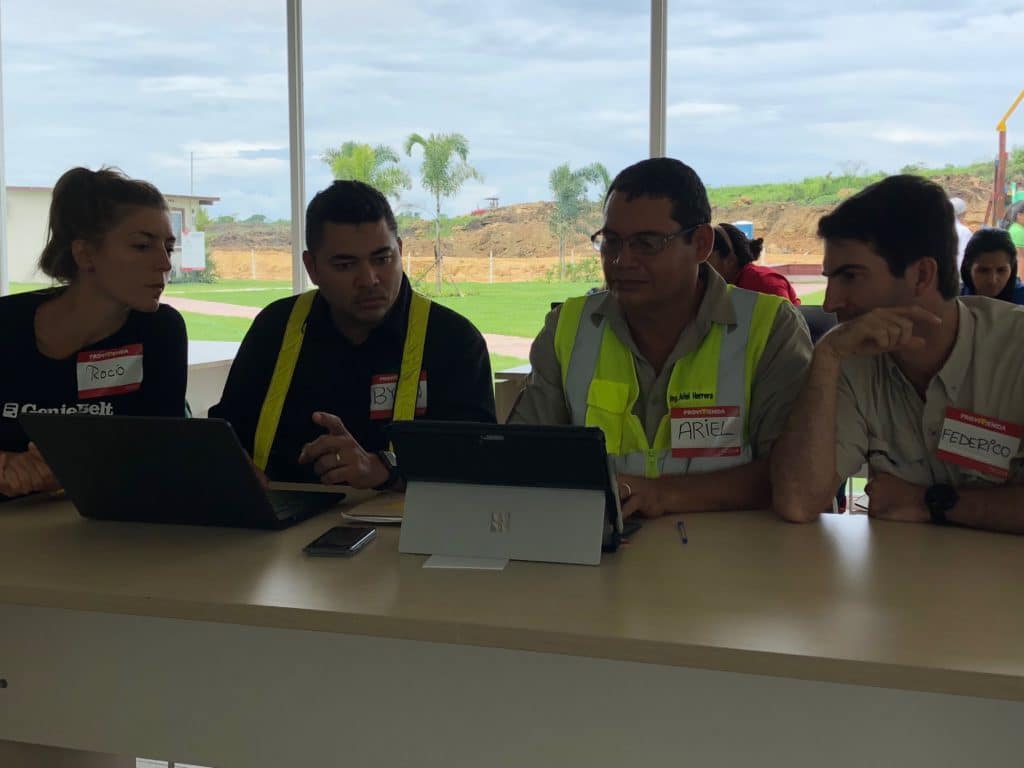 How to see everything happening on site
Discover how management in 934 construction companies achieved peace of mind by ELIMINATING the use of text messages, phone calls, WhatsApp, email, Excel, paperwork, and formal reports.